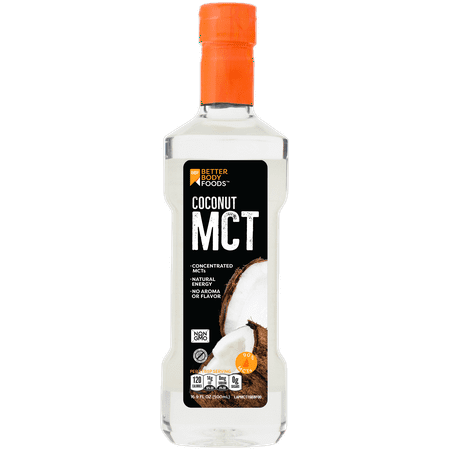 Meet the oil that does it all. Liquid Coconut MCT Oil remains liquid at cold temperatures, and its neutral flavor and aroma won't change the flavor of your delicious recipes. On the flipside, you get concentrated Medium Chain Triglycerides (MCTs), which are great for promoting sustained energy. The sustained energy provided by MCT oil makes it a perfect match for the Keto diet!
Body Foods Liquid Coconut MCT Oil contains roughly 78% energy-driving Medium Chain Triglycerides (MC
Ts). These MC
Ts help to naturally boost your energy.Flavor favor — Our Liquid Coconut MCT Oil is refined without chemicals, and has a neutral taste and aroma. That means you can add it to any of your favorite recipes without it changing the flavor.Liquid cool — Liquid Coconut MCT Oil remains liquid at cold temperatures, so it's great on salads and other cold dishes. It is also suitable for low-medium heat cooking (300°F).Certified delicious — Better
Body Foods Liquid Coconut MCT Oil is Gluten Free certified, so you don't have to worry when you add it to your recipes.Country of Origin — Better
Body Foods sources our Liquid Coconut MCT Oil from Singapore, but it is packaged at our company headquarters in Utah.
Customer Reviews
Fantastic oil!
Better body foods coconut Mct oil is fantastic! I've actually been wanting to try Mct oil for awhile as I know it's big with people doing keto. There are no aromas or flavors, it's concentrated MCTs, non gmo, gluten free, 90% MCT, 0 sugar, 0 sodium, and comes in a 16.9 oz bottle with a flip lid and easy pour spout. The bottle is made from BPA free plastic.
I have used this in some recipes and have even used it as a moisturizer for my skin. So far I have definitely seen improvements in my overall energy. I am very happy with this oil and will continue to buy it after it's finished. I haven't had any type of adverse reactions from it. I believe it is a high quality product and would recommend it.
no flavor
This Betterbody Foods Mct Oil has no flavor. I was a little worried at first because I do not like coconut but this does not taste like it at all. It is very healthy for you. It goes very good in smoothies or coffee. Just make sure that you do not put too much because a little goes a long way. The MCT oil only has 120 calories per serving and 14 grams of fat with 13 grams of saturated fat. Each serving is one tablespoon. I would recommend the better body Foods MCT oil to anyone that is health conscious of what they eat or drink.denosbaby
A great way to use coconut oil on cold dishes
Betterbody Foods MCT coconut oil allows for ease of cooking in the kitchen. The liquid form allows for a wider versatility of use including salads and smoothies. I received a great receipe for a vinagrette that used coconut oil I was worried about it hardening. This was perfect since it was great for cold dishes. This also works great as an out of bath body oil.Evilelf
You may also be interested in