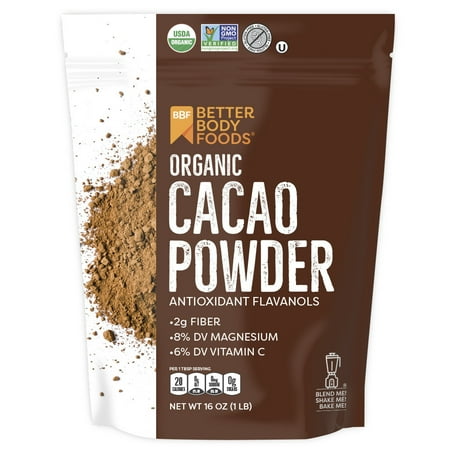 Finding lean alternatives to common foods can be helpful for people who are trying to change their diet and live a better life. Instead of using ordinary cocoa powder, switch over to BetterBody Foods Organic Cacao Powder! With no additives, you'll get the same great flavor as cocoa but without the guilt! Chocolate has never tasted so good! BetterBody Foods is a great addition to breakfast smoothies and shakes because it is a superfood that is loaded with helpful nutrients, vitamins, and antioxidants. Throw some of our powdered cacao in with protein powders that you are already using for an extra pop of chocolatey goodness. Our organic cacao powder is not only great in shakes and smoothies, but it can be used in a variety of baked goods. Use it in bread, cookies, muffins, cupcakes, pancakes, and waffles for a flavorful kick that your entire family will love! You can also use it to make hot chocolate beverages and classic Mexican mole sauce. The possibilities are endless! Unlike many other foods that have ingredients that you can't even pronounce, our BetterBody Foods contains 1 simple ingredient: organic, cacao from Peru. With chocolate this pure, you'll never go back to ordinary cocoa. This natural cacao powder is the perfect new addition to your pantry. BetterBody Foods is determined to bring you quality foods that are better for your body without sacrificing the flavors that you enjoy. Find food that you'll love with our Organic Cacao Powder! Don't just take our word for it; try some for yourself today!
Blend me!Antioxidant flavonols
Good source of vitamin C
Fiber & protein
Kosher
Choco-lot! Better
Body Foods Organic Cacao Powder has the great taste of chocolate, but with the added benefits of organic cacao. That means you get protein, fiber, and antioxidants in each serving!C is for chocolate Choose the super-smart way to get your chocolate fix with Better
Body Foods Organic Cacao Powder. Did you know organic cacao powder is even a source of Vitamin C?Kick cocoa to the curb Use Better
Body Foods Organic Cacao Powder instead of ordinary cocoa powder in cookies and cakes. Or add to smoothies, hot beverages, and Mexican mole sauce.Certified delicious Our Better
Body Foods Organic Cacao Powder is USDA Organic, Non-GMO, and Kosher certified, so you don't have to worry when you add it to your recipes. Oh, and it's also gluten-free!Real, simple ingredients Better
Body Foods only has one ingredient in its Organic Cacao Powder: organic, raw Cacao from Peru. So you're getting the real deal.
Customer Reviews
CoCo For Cacao
I am a person that loves to bake. Some people do not know that, not all cocoa powder is created equally. When I saw BetterBody Foods LIVfit Superfood Cacao Powder, I was a little skeptical. I decided to make a chocolate nut pie with it. As I was mixing the ingredients I decided to give the raw pie filling a little taste. OH MY GOODNES!! I am not kidding this cacao powder is the real deal. It has the most potent chocolate flavor ever! I am the kind of person that RARELY buys "chocolate" cake from the grocery store, because they usually do not even taste like chocolate. It just tastes like "sweet". This BetterBody Foods cacao powder made the most incredible chocolate nut pie ever. I actually made pumpkin pie, sweet potato pie, and the chocolate nut pie on the same day. I had my family sample them all, and guess what the consensus was? Hands down the chocolate nut pie was LOVED by all! I am not sure what they did with this cacao powder, but I will never buy that popular candy bar brand of cocoa powder again! This is really made for the person that is looking for that deep chocolate flavor.Roshonne
So good and good for us, too!
Some time ago, I learned that the original "red velvet" cakes weren't colored red at all. They were a fine-crumbed "velvet" cake made with un-roasted cacao powder which, along with buttermilk, brought out the naturally warm colors of the cacao bean into a red, velvet cake. I was intrigued with the idea of cocoa powder that wasn't roasted into a vaguely charcoal flavor. I wanted to try this type of chocolate and I wasn't disappointed with this brand. The cacao powder is great to cook with, and works well anywhere regular cocoa is used, offering more subtle chocolate flavor, and a warmer color, too. The brownies that I made with it lasted just minutes and everyone is wanting me to make more now, they were so good and I love that they also good for you, too, with using this type of organic cacao powder.CuteEverythingcom
100% real deal....
Friends, as I opened this 16oz bag of "LivFit Organic Cacao Powder " SuperFood, from Better Body Foods (packaged right here in the USA) there was a instant smell of chocolate in the air. I'm a chocoholic anyway so the smell was just like opening a can of cocoa powder used in baking, but there is a big difference in cocoa and cacao it being how the cocoa pod is processed....Cacao and cocoa are different, and each have their own unique nutrition, flavor and aromatic profiles. Cocoa is processed at higher temperatures and is usually alkalized, but alkalizing and processing in cacao, it changes it's pH value, molecular structure, and contributes to a milder flavor and decreased nutritional value, so to get the real Cacao powder, it is "cold-pressed" which is processed at low temperatures and help's retain key nutrients and preserve the true essence of chocolate. You get the great taste of chocolate with the healthy benefits of the cacao superfood. Each serving of LivFit Organic Cacao powder has protein, fiber, and antioxidants such as flavonols and polyphenols which is good for your body and is certified organic, Kosher, gluten-free and non-GMO. Only 20 calories per tablespoon with zero fat, zero sodium, zero sugar with Magnesium , Vitamin A and C. First thing I did , I grabbed a pint mason jar added a heaping "tablespoon " to about 10oz of cold milk, (it calls for 8oz but I like to put extra in because I used a heaping tablespoon)....put the lid on and shake,shake,shake....yes, this powder will float on top of the milk if you don't shake enough....but will do better in a blender. If you love chocolate and recipes call for cocoa powder you need to try this product. This is a 16oz bag (it's a big bag) with a zip seal for freshness and a code date with July of 2019. I have found my new superfood....Thank You "BetterBody Foods" for a great product, and I can't wait to try your other superfoods as well....h22o
You may also be interested in