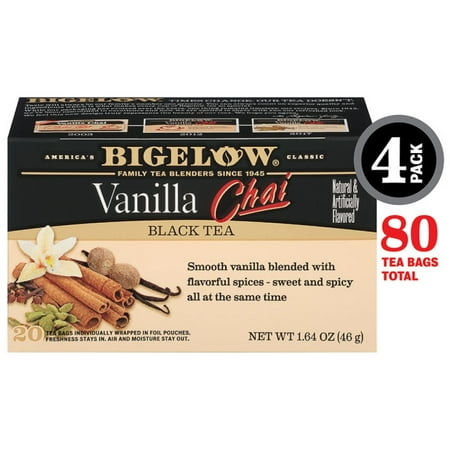 Adding creamy vanilla to our hand-picked black tea with the right balance of exotic spices was a natural marriage. A touch of milk and a little sweetener will bring out the rich vanilla creating a superb flavor sensation.
Smooth vanilla blended with flavorful spices and black tea20 Tea bags, individually wrapped in foil pouches for peak flavor, freshness and aroma
Glutenâfree, Non-GMO, Kosher Dairy
Bigelow Tea is Family Owned since 1945Each Ingredient has been carefully selected by the Bigelow Family to deliver an uncompromised quality tea experience
Bigelow Tea is proud to be a Certified B Corporation! We meet the highest verified standards of social and environmental performance, transparency, and accountability.
Customer Reviews
Best Vanilla Chai I've Tried
I drink a cup of tea every day. I've cycled through several of Bigelow's offerings (as well as other tea companies) and I've found that in the flavored tea category this is my ultimate favorite. It's hard to source at my local Wal-Mart so I was thrilled to find it on Wal-Mart's site at a good rate. I am a little disappointed that you have to purchase several boxes to get it delivered but at least there is a bulk discount. I love the flavor; other chai teas are a bit too strong for me, and this is a great balance of 'chai' and vanilla. I can see why others have complained of it being weak - it is not as strong as other chais I've tried but that is my personal preference.EDru
Perfect cup of hot tea on a cold winter morning!
I received a packet of this delightful Bigelow Vanilla Chai Black Tea in a #WalmartGroceryBox and I'm savoring it right now! I'm a tea drinker and love either cold or hot tea, but on cold mornings I prefer a nice, steaming cup of hot tea. This Chai tea has smooth vanilla blended with very flavorful spices, making it sweet and spicy at the same time. I do not like mixing milk or cream in my tea, so I can't say how it tastes with that added. To me, this tea tastes like gingerbread and vanilla! It's a great pick-me-up midmorning! I love it and plan on buying more soon! Thanks #WalmartGroceryBox for introducing this delightful tea to me!!CaseyMom

Smells great and taste great. Love itIndyq
You may also be interested in