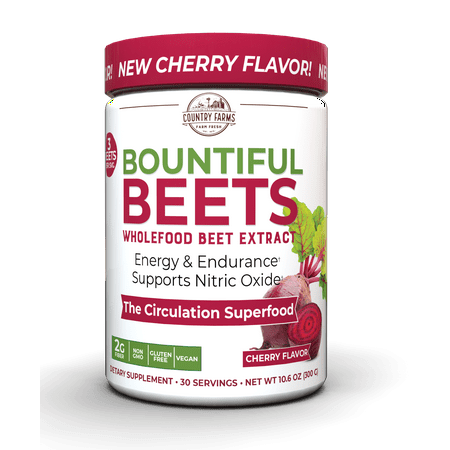 THE CIRCULATION SUPERFOOD. Because it supplies nitrates from real beet powder, Country Farms Bountiful Beets is a natural circulation-boosting superfood. When taken on a daily basis, Bountiful Beets will naturally help boost circulation, promote cardiovascular health, increase energy and improve stamina.THE POWER OF BEETS. In addition to their circulatory benefits, beets provide a natural way to help detox the body and promote liver and digestive health. They also are a source of fiber, helping to clean the digestive tract of waste and toxins while restoring a more regular digestive system.1 SERVING EQUAL TO 3 BEETS. To supercharge your intake of dietary nitrates and increase your energy levels naturally, incorporate Country Farms Bountiful Beets into your daily nutrition supplement regimen. Each individual serving is equivalent to 3 whole beets, meaning it is a convenient and economical way to obtain the benefits of beets. CONVENIENT & EASY TO USE. Enjoy this satisfying real beet powder mixed with water or add to your favorite smoothie. No messy juicing, waste or cleanup required. To help support cardiovascular health, enhance healthy circulation and amp up your energy levels, use Bountiful Beets daily! DELICIOUS CHERRY FLAVOR. Get the significant benefits of real beets even if you don't like the taste! Country Farms Bountiful Beets now comes in a delicious Cherry flavor for your enjoyment. Drink up and be healthy! The Circulation Superfood in a Delicious Cherry Flavored Drink!Country Farms Bountiful Beets now comes to you in delicious Cherry flavor! Bountiful Beets not only tastes great, but it provides the awesome power of nitric oxide in a convenient and delicious circulation superfood powder drink mix! Beets are more popular than ever these days thanks to their ability to support increased nitric oxide levels in the body. Nitric oxide is shown to help promote cardiovascular health, improve circulation and support increased energy. So if you are not eating your beets, you are missing out on numerous health benefits.
Os (Genetically Modified Organisms) are living organisms that have been artificially altered in a lab through genetic engineering. Recently, more data shows the connection between GM
Os and possible health issues. Because Country Farms Bountiful Beets is made from real non-GMO beets, it does not contain any GMO ingredients. 100% Vegan For a supplement or whole food to be considered 100% vegan, it must exclude any meat, poultry, seafood, eggs and other animal derived ingredients. Because it is derived solely from real beets and other vegetarian ingredients, Country Farms Bountiful Beets is a great vegan supplement. Dairy & Gluten Free Dairy free means the product does not contain any dairy ingredients and is lactose free. Furthermore, gluten free states that there is no gluten in the product. Country Farms Bountiful Beets drink mix does not contain dairy, lactose or gluten. About Country Farms At Country Farms, we strive to provide health-minded individuals with nutrient-dense whole food supplements to help boost their daily nutritional levels. Our mission is to create premium, farm-fresh and efficacious formulas designed to support well-being and vitality that are affordable to cost-conscious consumers. MANUFACTURER PROMISE: Before buying, please check whether the product is "Sold & shipped by Walmart" to make sure you are receiving this product from the manufacturer, to ensure proper product dating and highest quality.
Customer Reviews
Tastes Fresh, And Dissolves Well
Until now, I have used a generic brand of beet powder as a part of a wellness plan. However, when I tried the Country Farms Bountiful Beets sent to me as part of a review program, I decided that I will use this powder instead. The difference in texture and flavor between the Country Farms Bountiful Beets and the no-name one that I have been using is amazing. I ended up using the old ones for cosmetic purposes only. First, when I opened the container, I was almost positive that it was missing half of its content since the container seems to be half full. However, after weighing the beet powder, I confirmed that it was all in there. I placed a tablespoon in my bone broth/curry since I do not like smoothies, and to my surprise, the beet powder was evenly diluted in the broth after steering it lightly; it gave the broth a nice thickness, while the sweet flavor complemented the coconut milk in the curry. I am hoping that the manufacturer does not change the making process f this beet powder; it is the best beet powder I used up until now. I am the time of person that will not sacrifice taste for health if there is a way to do so, and this powder is a perfect integration to my healthy lifestyle.dontlookmyage
Wonderful supplement
I love Country Farms Bountiful Beets, Wholefood Beet Extract Superfood. I generally drink fresh beet juice every day. Shower, since getting Country Farms Bountiful Beets, Wholefood Beet Extract Superfood I haven't had to juice. This supplement save me so much time in the morning. I no longer have to make my own beet juice. It is delicious, healthy. I was very excited When I learned that one serving is the equivalent of 3 beets,that it is non go, gluten free and 100% vegan. I am usually very fatigued but since taking Country Farms Bountiful Beets, Wholefood Beet Extract Superfood I have a lot more energy. I would definitely recommend this product others.2bras
Taste like beets
First, when you first open the bountiful beets container be careful cause the powder is very fine and a dust ball came at me haha but I lived, I really didn't want to use the cup due to that scare i had earlier so I used measuring spoons for different types of shakes. The taste was great but not in water alone, i found that to strong, so I prefer the shake kind and it was very tasty. I do feel that I last longer throughout the day and I don't fully crash at the end of the day, so that's good.misssunshine2014
You may also be interested in