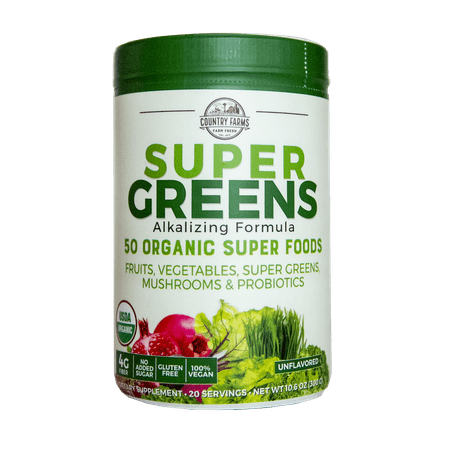 STRAIGHT FROM THE GARDEN – Don't be a statistic! The CDC tells us that only 1 in 10 Americans eat enough fruits and veggies. Fortunately, Country Farms Super Greens Unflavored combines the health-building nutrition of USDA Organic fresh fruits, veggies, grasses, berries, algae, mushrooms and superfoods in the convenience of a powdered drink mix.BOOST ENERGY, IMMUNE HEALTH & VITALITY – Thanks to the 50 USDA Organic whole food ingredients in each serving of Super Greens Unflavored drink mix, you can find the vitamins, minerals, antioxidants and enzymes necessary to support overall wellness. It provides an alkalizing whole food blend of fruits, vegetables, probiotics, greens and reds that are vital for your health.AMERICA'S CHOICE – Enjoy America's #1 superfood drink mix to start your morning to the fullest or as a healthy snack between meals. Whenever you use Super Greens, you'll be fortifying your diet with a premium USDA Organic, gluten free, non-GMO, natural whole food supplement to help support ultimate nutrition.SUPERFOOD NUTRITION WITHOUT THE HASSLE OF JUICING – You can drink delicious naturally flavored Country Farms Super Greens alone as a tasty shake or blend it with your favorite smoothie. This convenient drink mix offers the power of farm-to-table nutrition without the cleanup or hassles of juicing!PROBIOTICS, PREBIOTICS, GREENS, GRASSES & MORE – With Country Farms Super Greens, you will get 20 servings in a 10.6-ounce bottle, packed with 50 USDA Organic superfoods, probiotics, prebiotics, greens and grasses, plus 4 grams of fiber per serving!America's Favorite Greens Product! With our hectic, fast-paced lifestyles pulling us in a million different directions at once, it can be hard to find the time to eat as nutritiously as we'd like. As America's No. 1 Greens Product*, Country Farms Super Greens Organic Drink Mix proves that healthy living can still be simple. Super Greens is an organic, nutrient-packed powder blend of high quality natural greens, fruits, vegetables and superfoods to deliver essential nutritional elements for your body's health and well-being. Just stir a scoop of Super Greens powder into 8 ounces of water for a convenient way to enjoy a whopping 50 superfood concentrates in one delicious supplement drink. The secret to Country Farms Super Greens is our advanced processing procedure for the fruits and vegetables we source from the finest farms. This process optimizes the powerful effect of harvesting organic produce at the peak of ripeness and nutritional content to preserve freshness for up to three years. Juicing can be expensive and cumbersome, with fresh produce often spoiling before you use it. In addition, Super Greens dietary supplement is a great source of dietary and prebiotic fiber.Enjoy the benefits of Country Farms USDA Organic Super Greens … America's #1 greens product* … as an inexpensive and tasty natural food-based alternative to many of today's conventional dietary supplements. Whether you're vegan, vegetarian, or simply someone on-the-go who wants the advantages of real, organic whole foods and dairy-free probiotics, our naturally flavored Super Greens powder drink mix offers wholesome farm-to-table nutrition and convenience.
Organic whole food ingredients provide premium, clean, plant-based nutrition that promotes health. Country Farms Super Greens ingredients are certified as USDA Organic, meaning the fruit and vegetable ingredients are scrutinized to meet the highest standards.Non-GMOGM
Os (Genetically Modified Organisms) are living organisms that have been artificially altered in a lab through genetic engineering. Because Country Farms Super Greens is USDA Organic certified, we use only fresh, Non-GMO ingredients.100% Vegan
If a supplement or whole food is to be considered 100% vegan, it must exclude any meat, poultry, seafood, eggs and all other animal-derived ingredients. Country Farms Super Greens is made from plant based raw materials.Dairy & Gluten Free
Dairy free means the product does not contain any dairy ingredients and is lactose free. Although Country Farms Super Greens drink mix contains wheat grass and barley grass, these are grasses and do not contain gluten.About Country Farms At Country Farms, we strive to provide health-minded individuals with nutrient-dense whole food supplements to help boost their daily nutritional levels. Our mission is to create premium, farm-fresh and efficacious formulas designed to support well-being and vitality that are affordable to cost-conscious consumers.MANUFACTURER PROMISE: Before buying, please check whether the product is "Sold & shipped by Walmart" to make sure you are receiving this product from the manufacturer, to ensure proper product dating and highest quality.
Customer Reviews
Great Product!
I was stocking up again, these alkalizing greens help me with energy and keeping aches and pains down . I take these everyday!
They also taste great with only water added!Lisa
Country Garden Super Greens are a game changer
Been taking this since March 2020 can tell big difference with overall health. This product is a great find for health and well being. Digestion and stools have been much better. Because I'm on pain meds daily ths greens has helped bug time
Taste doesn't bother me, mix in water b4 breakfast and drink straight.sammy65
I wouldn't be without it
I really love this healthy green drink. I was a little leery about the taste before I tried it, and the first sip was a tiny bit grassy, but I very quickly found it delicious and refreshing. It mixes beautifully with vigorous shaking, and it's a wonderfully fast way to get a great burst of nutrition.LetItWork
You may also be interested in