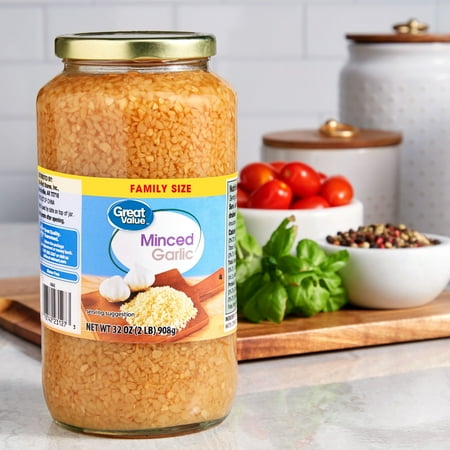 | | |
| --- | --- |
| Brand Name | Great Value |
| Model | 84013 |
| Rating | |
| Reviews | No reviews yet |
Take your culinary creations to the next level with a spoonful of Great Value Minced Garlic in Water Family Size. Garlic has been widely cultivated in Middle Asia for centuries, but its exact origins are a mystery. Nowadays, it is grown around the world and considered to be both a pantry staple and a homeopathic health remedy. Garlic's pungent and spicy flavors become caramelized and sweeter when cooked, making it a perfect accompaniment to many dishes such as pasta, shrimp, chicken, stews, and more! Minced garlic also goes great in creamed soups, on all types of roasts, in a variety of egg dishes, or used simply with sautéed or roasted vegetables. Spice up your next meal with a tasty teaspoon of our delicious Great Value Minced Garlic in Water Family Size.Great Value products provide families with affordable, high quality grocery and household consumable options. With our wide range of product categories spanning grocery and household consumables, we offer you a variety of products for your family's needs. Our products are conveniently available online and in Walmart stores nationwide, allowing you to stock up and save money at the same time.
In water
Reclosable screw-top jar
Family size - 32oz
You may also be interested in