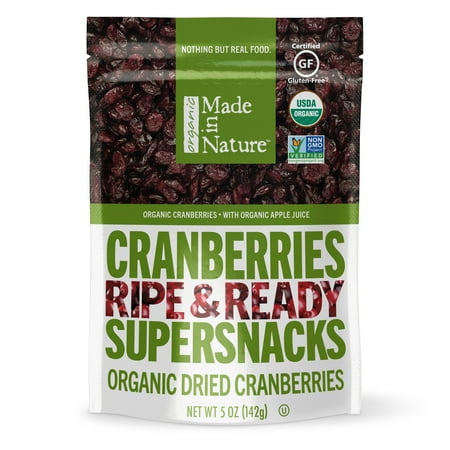 When it comes to real food, real taste and real nutrition, our Organic Cranberries have snack time on lock. In fact, we dare you to devour a handful of these fiercely flavorful fruits and not go in for a second round. For real though?if you think cranberries are too tart for your taste, we?ll turn that sourpuss into a grin in no time. A delicate touch of organic apple juice makes these cranberry zingy thingies outrageously snackable and fit for all your favorite recipes. You can always trust Made In Nature to keep the riff-raff out of our organic cranberries.
Non-GMO Project Verified
Sweetened with Organic Apple Juice
Customer Reviews
Made In Nature: My New Favorite Dried Fruit Snack Food
Made In Nature Dried Cranberries are my new favorite dried fruit snack. They are juicy, tasty, tangy yet sweet and have a hearty texture. I love and eat dried fruit everyday. Especially, dried cranberries because they add texture and flavor - as well as nutritional value to any food like bread, cereal and salad. Dried cranberries are rich in antioxidants, high in dietary fiber, help manage blood pressure and reduce cholesterol levels and have generous health advantages. Of course, dried cranberries are fat-free, have neither trans nor saturated fats, or cholesterol. Made In Nature uses Gluten Free Organic Cranberries that are sweetened with Organic Apple Juice. None of the other dried cranberry products that (I have tried) can make this statement. I have and will continue to recommend Made In Nature Dried Cranberries to friends and family as an option for healthy snacking. [This review was collected as part of a promotion.]auntee
Great alone or in favorite cookie recipe!
Have you ever seen dried cranberry products with an "all natural" claim, yet have a gummy texture, are sugar coated, and contain ingredients difficult for the average person to pronounce? Makes one wonder what the "natural" parts of other dried cranberries actually are. Made In Nature Ripe & Ready Supersnacks live up to the natural claim and made with only three ingredients: organic cranberries, organic sunflower oil, and sweetened with organic apple juice concentrate. These dried cranberries taste fresh and ripe right out of the bag. Be warned, though; you may want to keep a napkin nearby as snacking Ripe &Ready cranberries can be a little messy. However, I immensely enjoyed this fruit snack. The flavor is sweet with a bit of tang thanks to the aforementioned three natural ingredients. I went one step further and made my usual dried cranberry cookie recipe with Ripe&Ready. Not only do these cranberries make delicious snacks, but my cookies also turned out scrumptious (perhaps my best cranberry cookies to date!). Made In Nature Ripe & Ready Supersnacks is now my new go-to dried cranberry snack and I recommend including these tasty treats among the sweet holiday fare. Watch how fast they disappear - either alone or in a sweet recipe of your own! [This review was collected as part of a promotion.]Lori C.
Very tasty
Very tasty didn't raise my blood pressure and didn't raise my blood sugar. The package arrived open with the contents inside spilled. Great size. Great Product will probably be hard to find in stores in my area. [This review was collected as part of a promotion.]Galaxysgirl
You may also be interested in