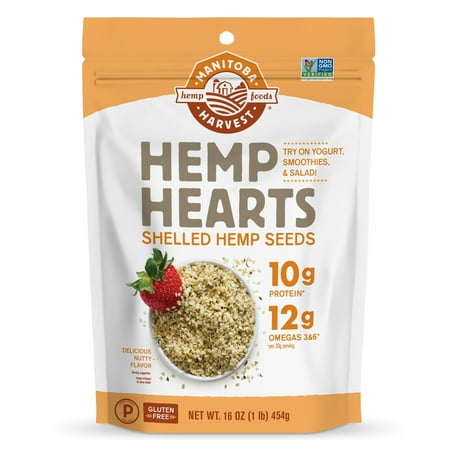 Good things come to those who hemp! Passionate and purposeful in the pursuit of better nutrition, Manitoba Harvest brings you all natural Hemp Hearts. In comparison to chia and flax seeds, these small, but mighty hemp seeds have two times the protein, 40 percent more Omega-3 and Omega-6 fatty acids, significantly less carbs, and 70 percent more iron. Hemp Seeds are a power-packed addition to smoothies, yogurt, salad and more.
Customer Reviews
Great addition to yogurt, ice cream, salads
I add these to my chia and flax to give a healthy alternative to nuts and supplements. Very pleasing flavor, kinda nutty like.Carly
Incomparable nutritional benefits
Simply examine the nutritional facts about hemp hearts on the back of the package and you will see you will be hard pressed to find another food with such nutritional bang for your buck, and when you see how you feel after using them for a while, you will know it's true.
can't do breakfasts without these :)
these are a great addition to breakfasts to keep you going until lunch time, and we also add them to salads and use them in energy balls/cookies. i like this brand because you don't get a lot of shell bits, some other brands aren't shelled quite as well. i also like the 5lb size, we go through a lot of these!
You may also be interested in