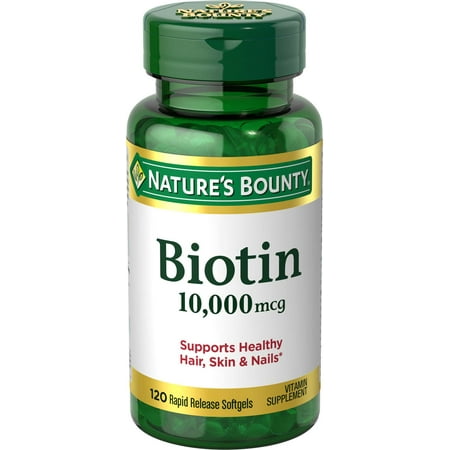 Support your skin, nails and hair with Nature's Bounty Biotin 10,000mcg Softgels. They come in a bottle of 120 softgels that begin to activate when you take them. It contains a water-soluble vitamin that is found in oatmeal, vegetables and soy. Nature's Bounty biotin softgels contain no sodium, no yeast and no sugar. They also don't have preservatives, wheat or lactose. This is part of the B-family of vitamins that support a healthy nervous system and aids the conversion of blood into energy. They're manufactured here in America. Take this healthy hair, skin and nails supplement daily to give your body the nutrients it needs.
Energy support
Nature's Bounty Biotin Softgels are gluten-free
No preservatives
These softgels contain no sugar
Free of milk and lactose
Nature's Bounty Biotin Softgels are not made with fish or yeast
No artificial sweeteners or starch
Sodium-free
Contains no wheat
Free of artificial flavors
Easy to digest
Customer Reviews
Such a good supplement
I would recommend this to everyone. Since i've been taking one everyday, my hair so much stronger, stopped losing and 8in longer in 15months (i trimmed it 4 times) , seems like my nails still the same but my skin is healthier even i dont sleep enough. The pill is small and easy to swallow, doesnt smell at all.Yeucon
Good
These seem to be doing all I could ask for in a supplement. Haven't used for a long period of time.
Biotin, Biotin, does what ever a Bio can.
This is the top dosage of Biotin that I have seen over the counter. Nature's Bounty is a great brand.HtotheK
You may also be interested in