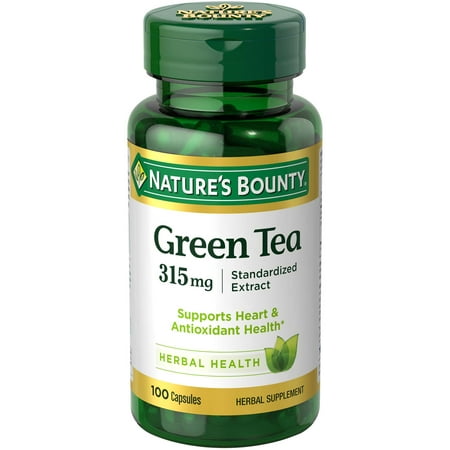 Green tea is a nutritional staple in Japan where it has been used for centuries. Green tea contains beneficial flavonoids, which are natural phytochemicals that provide antioxidant support and beneficial properties.* Nature's Bounty Green Tea Standardized Extract contains naturally occurring polyphenols. Green tea has been a valued healthful tonic for more than 4,000 years and has been traditionally used to support heart health. Nature's Bounty Green Tea Extract is Non-GMO and Gluten-Free.
Nature's Bounty Green Tea Extract is Gluten Free and Sodium Free.No Preservatives
This product contains 27 mg - 40 mg of naturally occurring caffeine per 2 capsule serving.*These statements have not been evaluated by the Food and Drug Administration. This product is not intended to diagnose, treat, cure or prevent any disease.
Customer Reviews
Great for reducing sugar cravings!
I have been taking Green Tea off and on for the last few years. I haven't noticed a difference in my metabolism or weight, although when I stop taking it, the pounds do slowly creep up on me (it could be because I then eat too much candy or sugar) . What I do notice when I take this is that my sugar cravings go down dramatically. After taking this (give it at least 30 minutes), I am not tempted or succumb to my sugar cravings. I could be standing near donuts, cookies, cakes, or anything else sweet and don't feel the pull to eating them; I have self-control. It does wear off, so I take 2 of these Green Tea pills twice a day so I can stay strong. There is an antioxidant that is only found in Green Tea and it is supposed to be very beneficial. I take this because I can't be drinking green tea and rushing to the restroom every 15 minutes, but I still want the benefits of it.limey317
A+
Great product - quick ship. [This review was collected as part of a promotion.]Christopher C
Thought I would give this a try.
Decided to try this since I have read so much about this. I always buy my supplements when there is a BOGO sale!Gracie2005
You may also be interested in