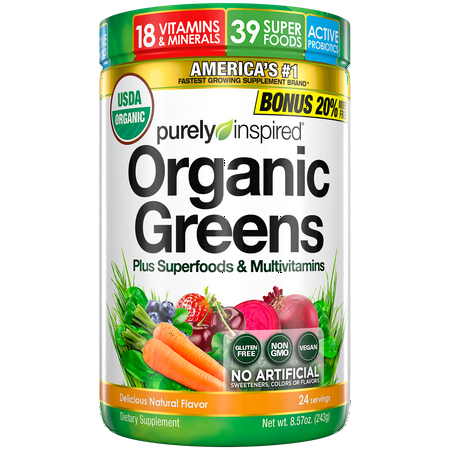 GREEN & CLEAN Purely Inspired® Organic Greens Plus Superfoods & Multivitamins is an incredibly clean formula that contains no artificial sweeteners, colors or dyes, to ensure you are putting only the highest quality of nutrition in your body. In one scoop, at only 35 calories, you'll get fruits and vegetables, probiotics, and 18 vitamins and minerals. Not only is this amazing product certified USDA Organic, but it's also gluten free, non-GMO and 100% vegan friendly! You couldn't ask for a cleaner way to nourish your body!
Customer Reviews
Fast, nutritious and so few calories!
Excellent way for me to get green vegetables and superfoods and my multivitamins, fast and easy and without all of those calories. I simply take out my bullet which is on my counter anyway drop in some frozen blueberries and maybe strawberries or a banana fill with water and the scoop of the powder put the lid on and blend for a minute and I have myself a wonderful tasty smoothie that is packed full of nutrients without the mess and the calories. I also get the vanilla protein powder by the same company and sometimes add a scoop or half a scoop of each at the same time twice a day and I'm losing weight every day! I am so pleased! I cannot say enough about meeting to lose weight and stay with healthy eating and this fits right into my regimen.Brenda
Tastes good
The flavor is really pretty good. I am not great at these powder drinks.
I tried this and like it and think it is a great product. It mixes well. and has a slight texture that makes it better than some I have tried. My daughter just loves it.ella
Spruce up the Taste
Mix these with some Kiwi Strawberry Benefiber and you will love the taste even more. Gives it the right sweetness to make you crave for more. You're getting your Fiber and your Veggies in one drink.
You may also be interested in