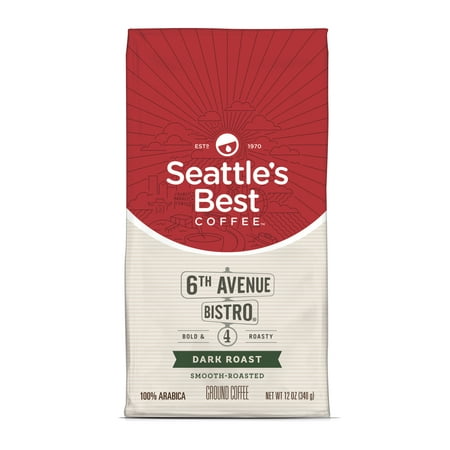 From the first sip, you know this one is special. A bold and roasty blend of premium beans that brews a perfectly balanced cup of coffee. Made especially for people who appreciate something that's smooth, strong, and a great start to their day.
Signature Blend No. 4 is now 6th Avenue Bistro6th Avenue Bistro is a dark roast coffee with perfectly balanced bold and roasty flavor
Our recommendation for a great cup of Seattle's Best Coffee is 1 tbsp (5 g) of ground coffee for every 6 fl. oz. (180 m
L) of water
For finest taste, use cold, filtered water and store ground coffee in a cool, dark place
Customer Reviews
Best price anywhere for Seattle's Best Level 4
Our office of 50 people really likes the wonderful taste of Seattle's Best Level 4 Coffee. Office Supply companies supply 18 two ounce portion packs for anywhere from $25.00 to over $40.00 for 18 pots of coffee. Purchasing the 12 ounce bags at Walmart for $5.88 per bag gets us 6 pots of coffee for 98 cents a pot instead of the $1.43 minimum per pot with the portion packs (NOT including shipping). Walmart will even ship it for free with a $75.00 purchase. We order our coffee from Walmart online.SGTAdmin
Good quality coffee at a very good value
I think Seattle's Best produces a very tasty coffee, consistently good, not bitter and at a great price. And, there is no compromise in the taste with the reasonable price of the coffee. I used to be a Starbuck's fan, but I often find it has a somewhat bitter taste. Not so with Seattle's Best. I like the option of choosing your level of coffee boldness, from 1 to 5, with the Seattle's Best brand. For me, the level 4 is the best flavor without a bitter overpowering taste.radmansegs
Yummy!
The only negative thing I have to say about this is that I do wish it said something on the packaging about the fact that it used to be called Henry's Favorite. If you're like me, you shop by packaging, and certainly by the name of the product. Other than that, the product is the same great tasting coffee it's always been, just by the name 4 instead.
You may also be interested in