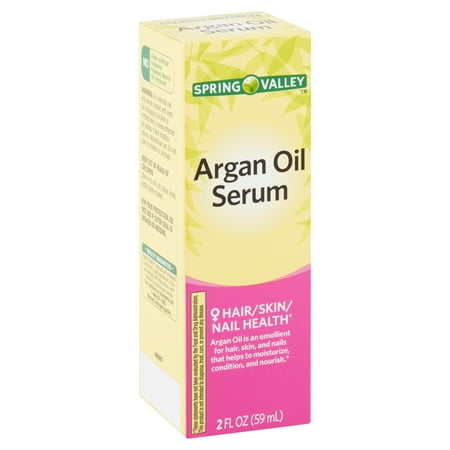 Leave your skin feeling rejuvenated with each drop of our cold-pressed Spring Valley Argan Oil Serum. Argan oil is an emollient that helps to moisturize, condition, and nourish to support the health of your hair, skin, and nails. This luscious serum combines argan oil with sweet almond oil, grapeseed oil, and avocado oil, leaving your skin smooth to the touch. Additionally, applying our argan oil serum to your hair and nails will intensify shine, giving you a spa-fresh look every time you use it. Gently massage a small amount of oil onto your skin, hair, or nails in the morning or evening for a luxurious feel. This serum contains no gluten, artificial fragrance, parabens, mineral oil, or petroleum. You can rest assured that Spring Valley Argan Oil Serum is produced with strict quality guidelines and are backed by our quality guarantee.Spring Valley understands living a healthy, balanced lifestyle is the  key to being your best self. With an affordable range of products inspired by nature, Spring Valley supports your and your family's health and holistic wellbeing.
Moisturizing, conditioning, and nourishing
Contains sweet almond, grapeseed, and avocado oils2 fl oz bottle
Free of gluten, wheat, and lactose
No artificial fragrance, parabens, or petroleum*These statements have not been evaluated by the Food and Drug Administration. This product is not intended to diagnose, treat, cure, or prevent any disease.
Customer Reviews
TRY IT--YOU'LL BE HAPPY.
Love this stuff. It's a smart blend of several oils that produces a fresh, good look to my skin. If my foundation seems too dry I use the Serum all over first; it mixes well and glides on. I think regular use has produced a cumulative effect on my skin.Dorothy
DON'T BUY THE EXPENSIVE BRANDS.
I USED TO BUY THE MORE EXPENSIVE BRANDS, WELL LET ME TELL Y'ALL...THIS IS THE BEST! MY SKIN GETS SOOOOOO MANY COMPLIMENTS, EVEN HEALTH OFFICIALS WANNA KNOW MY SECRET. AND WHEN I TELL THEM /OMG

Good product. Helps calm down the frizz in my hair.Serena
You may also be interested in