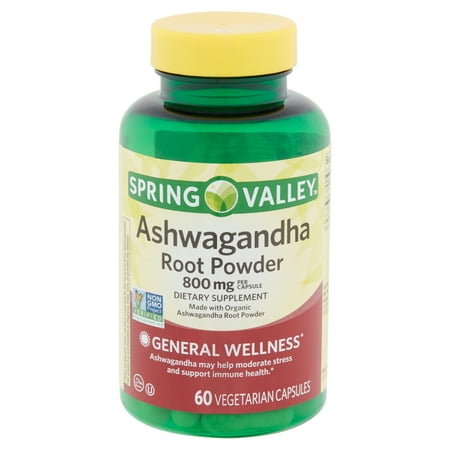 Spring Valley Ashwagandha Root Powder Vegetarian Capsules are dietary supplements that may promote general wellness. Ashwagandha may also help moderate stress and support immune health. Each vegetarian capsule contains 800 milligrams of organic Ashwagandha root powder. The suggested adult dosage is one capsule daily, preferably with a meal. These capsules are free of gluten, yeast, wheat, milk or milk derivatives, lactose, sugar, soy, and artificial colors and flavors. They contain less than 5 milligrams of sodium per capsule. You can rest assured that Spring Valley Ashwagandha Root Powder Vegetarian Capsules are produced with strict quality guidelines and are backed by our quality guarantee.Spring Valley understands living a healthy, balanced lifestyle is the  key to being your best self. With an affordable range of products inspired by nature, Spring Valley supports your and your family's health and holistic wellbeing.
Free of gluten, wheat, and lactose
No artificial colors or flavors
Kosher and Halal
Non-GMO verified*These statements have not been evaluated by the Food and Drug Administration. This product is not intended to diagnose, treat, cure or prevent any disease.
Customer Reviews
Life Saver
I love this! I would get really bad anxiety and it pretty much consumed my day. Since I began taking Ashwagandha my anxiety has gone down, I would say about 80%. I was taking another brand that I would buy from Amazon and forgot to purchase in time. I bought this brand and it works just as well and the price is great! Would definitely recommend.

I have been using these for three months. I wanted to give it some time before I wrote my review. It is help me will leave about 30% of my anxiety. Its helped my husband with stress and sleep. I have a very sensitive stomach and these dont upset my stomach.TeresaO
Will continue to use.
A nice addition to my supplements, my wife and I both feel a noticeable difference.CinOhio
You may also be interested in