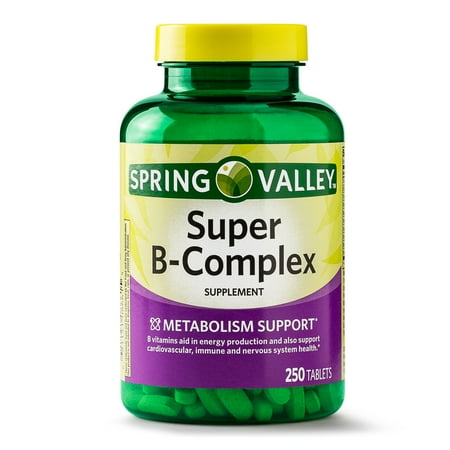 Support your metabolism and do something good for your overall health with these Spring Valley Super B-Complex Tablets. They come in a convenient 250-count bottle and help to promote a healthy cardiovascular, immune and nervous system*. B-complex is also known to assist in energy production and offer antioxidant support, making them a healthy addition to your everyday diet. They come in an easy-to-take tablet and are made with quality ingredients that are free from artificial colors/flavors, lactose, gluten and trans fat, so they're suitable for those with certain dietary restrictions. Stock up on Spring Valley Super B-Complex Tablets today.Spring Valley understands living a healthy, balanced lifestyle is the key to being your best self. With an affordable range of products inspired by nature, Spring Valley supports your and your family's health and holistic wellbeing.
Does not contain any artificial colors or flavors, gluten, trans fat, or lactose250 easy-to-swallow tablets per bottle
Safe for daily use*These statements have not been evaluated by the Food and Drug Administration. This product is not intended to diagnose, treat, cure, or prevent any disease.
Customer Reviews
Super Woman
Arrived fast at my door with no hassles. Super B makes me a Super Woman at 80 yrs old!Guffeyland
Super B is for me!
I use Super B-Complex on a daily basis, specially first thing in the morning if I'm doing a lot of letter writing because vitamin B helps my fingers from getting numb.IRENE
Great for diabetic neuropathy
Recommended by Podiatrist for diabetic neuropathy of the feet. This vitamin will turn your urine amber colored.Stonecold
You may also be interested in