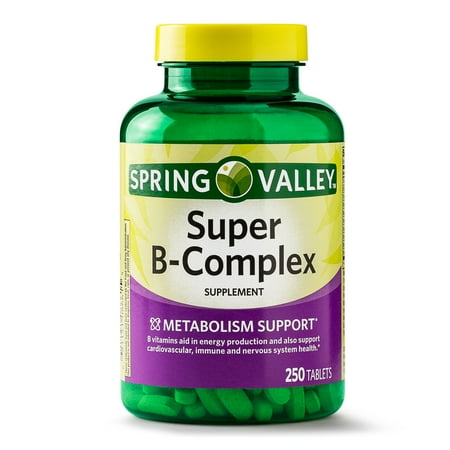 Support your metabolism and do something good for your overall health with these Spring Valley Super B-Complex Tablets. They come in a convenient 250-count bottle and help to promote a healthy cardiovascular, immune and nervous system. These B-complex dietary supplement tablets also assist in energy production and offer antioxidant support, making them a healthy choice. They come in an easy-to-take tablet and are safe for everyday use, making them simple to add to a daily vitamin and supplement regimen. These super B-complex pills not only support heart and immune health, but also may help to enhance skin and muscle tone. They're made with quality ingredients and are free from artificial colors and flavors. These Spring Valley Super B-Complex Tablets are also free of lactose, gluten and trans fat, so they're suitable for those with certain dietary restrictions. Take one each day with a meal for ideal results.
B-complex assists in energy production
Antioxidant support
B-complex dietary supplement supports the immune and nervous system
May enhance skin and muscle tone
Metabolism support tablets come in 100- or 250-count bottle
Supports cardiovascular system health
High in Vitamins B6, B12 and other essential vitamins and minerals
Easy-to-swallow tablet
Quality guaranteed Does not contain any artificial colors or flavors Contains no gluten, trans fat and or lactose These statements have not been evaluated by the Food and Drug Administration. This product is not intended to diagnose, treat, cure or prevent any disease.Spring Valley understands living a healthy, balanced lifestyle is the key to being your best self. With an affordable range of products inspired by nature, Spring Valley supports you and your family's health and holistic wellbeing.
Customer Reviews
Great daily supplement
Use daily since I don't always eat a balanced diet daily. I feel I need the added nutrients daily to maintain good health. Want to boost my system and protect my health as well. Cheap insurance for good health and a good way to feel good daily.Shelly
Great Combo B Vitamin
I've been taking this product for years to keep my energy up and my blood balanced. Good quality and works great for a much lower price than the vitamin stores.SealBeach
Good deal!
Good vitamins at a good price.55Chloe
You may also be interested in