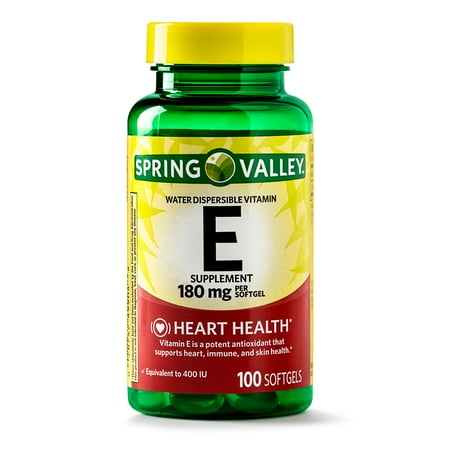 Support your heart, immune system and skin health naturally with Spring Valley Vitamin E Softgels. This dietary supplement also helps maintain muscle tissue to promote overall wellness. It's a potent, water-dispersible antioxidant that fights free radical damage to the body. It's free of gluten and lactose as well as artificial color and flavors. Spring Valley supplement softgels are easy to swallow and come in a 100-count bottle. Use as directed for optimal results.Spring Valley understands that living a healthy, balanced lifestyle is the key to being your best self. With an affordable range of products inspired by nature, Spring Valley supports you and your family's health and holistic well-being.
No artificial color or flavors
Spring Valley supplements are water-dispersible
Packing: recyclable, PETE 1100-count bottle
Naturally supports the heart, immune system and skin health
Helps maintain muscle tissues
May improve cardiovascular system
Potent antioxidant
Soft gels are easy to swallow
Use these 400 IU Spring Valley Vitamin E supplements as directed for optimal results
Consult with your doctor for specific health concerns
Disclaimer: These statements have not been evaluated by the Food and Drug Administration. This product is not intended to diagnose, treat, cure or prevent any disease.
Customer Reviews

One of my daily routine vitamins. Preferences go towards spring valley.Ronald
On sale - good price
It's a vitamin - buy if if you need it -

i have always purchased this brand from WalmartDiane
You may also be interested in