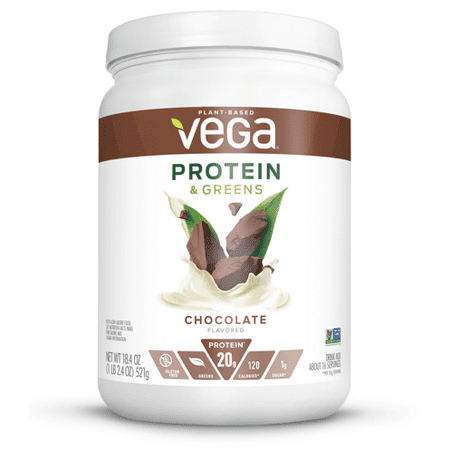 Adding more plant-based nutrition to your day is easy with Vega® Protein & Greens. Made with real plant-based food ingredients, Vega Protein & Greens is more than just a protein shake.
Veggies and greens110-120 calories0-1 grams of sugar
This product is keto-friendly. Our top tip? Add coconut oil to your smoothie or shake for a little extra fat. Not a medical food.Vega Protein & Greens is non GMO Project Verified, vegan certified, low glycemic, gluten free, and without dairy or soy ingredients
Contents may settle during shipping. Don't worry, that's normal. You're still getting all the servings listed on your product!
Customer Reviews
LOVE THIS PROTEIN!!!
I have being using this protein for 3 years and I love how I feel when I drink it and O love the chocolate flavor.Caroc
Salted Caramel
I really like this flavor! It's a little chalky by itself, like all vegan proteins, but Vega has the best texture and taste I've found by far. I blend it into my morning coffee, add a little almond milk, and it tastes like a sweet little latte. Great for those who have a hard time eating breakfast!Satisfied
Yummy!
Love ALL flavors of this protein powder- ordered in vanilla, chocolate and salted caramel. I was concerned about reviews saying there was a weird aftertaste or didn't like the stevia. Personally, I love all the flavors I've ordered and tried. It's the first protein powder I haven't tried and gagged on. Game changer. Makes a yummy dessert after dinner and I'm losing weight (woohoo!) because it's helping me feel full.Mira
You may also be interested in